The Ultimate Growth Marketing Course

Join the 20 chapter online growth marketing program by GrowForce and learn to think and act as a growth marketeer!

Learn from proven growth tactics and campaigns that we implemented for GrowForce and our clients.
Have a clear understanding of the pirate funnel and how to talk growth within the team.
Hands-on mentorship by the GrowForce consultants during the 1-1 video calls.
Be part of the Private GrowForce academy Slack Community (+200 alumni). Share questions, tools and mighty new tactics.
Hi, we are GrowForce!
We are a team of 10 passionate growth marketing lovers.

After having more than 200 students in our offline academy and we thought it was time for a change.
For the first time ever, we give you access to our entire Growth Marketing Curriculum. This includes: lessons, excercices, Q&A sessions, community events and much much more.
We know how important it is to stay up to date with the latest tactics. That's why you'll get lifetime access. You'll be able to watch the updated lessons .... for ever!
Now, we want to teach you everything we know about growth marketing & funnel marketing. Are you ready to grow?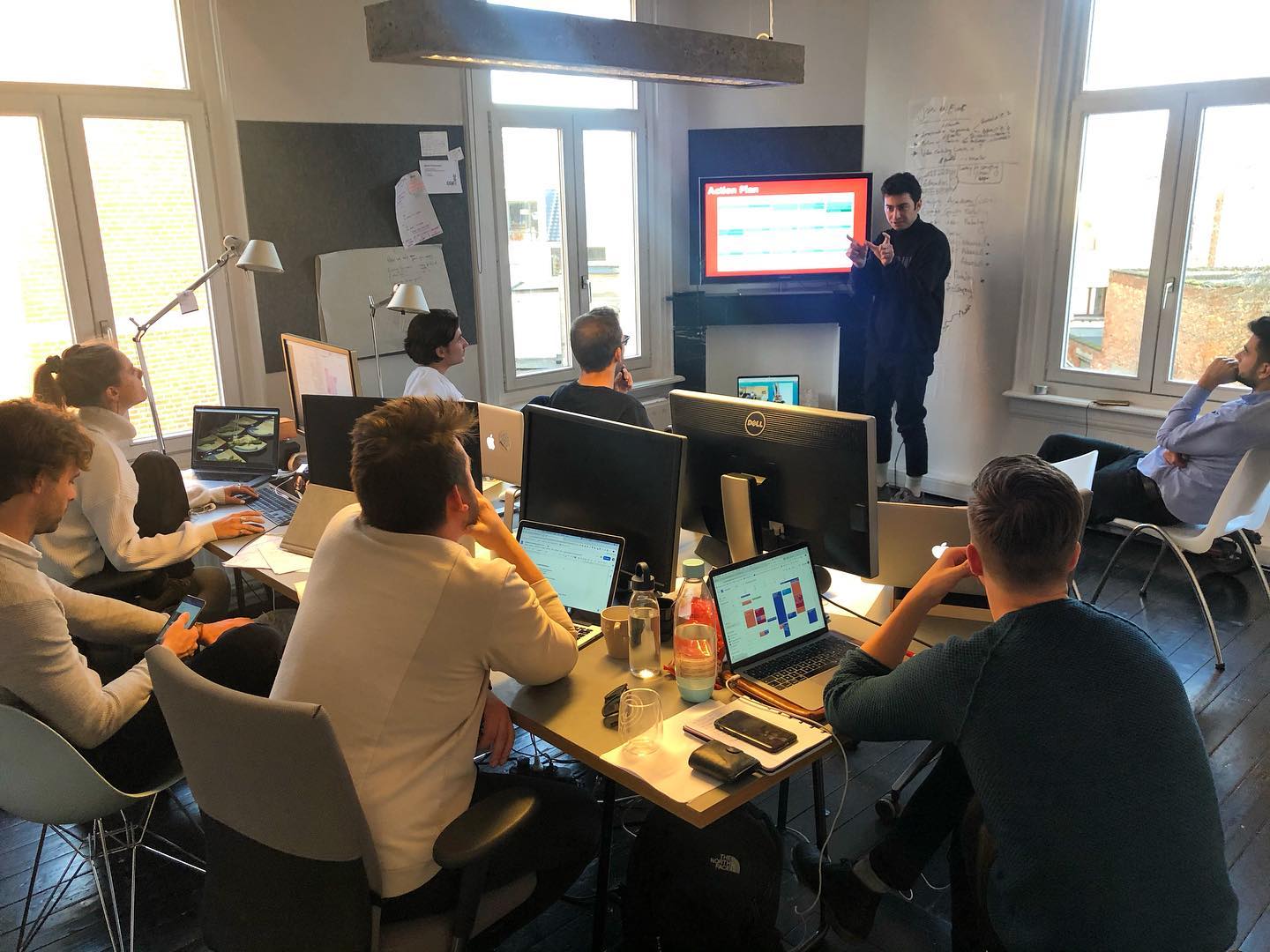 The Ultimate Growth Marketing Course
is a hands-on, 20 modules program
How This Course Will Help You Grow!


GrowForce

is a team of passiate growth marketing experts who thrive on teaching you to be a better Growth Marketer.

Hands-on tactics

, no fluff but all actionable strategies you can implement today and get results.

Battle-tested curriculum

, made up of 20 sessions and over 40 hours of video lessions that will give you an unfair advantage over your competitors.

Outright Excercices

to make sure you implement what you learn. You'll get feedback on every excercise you make!

Interactive worksheets & online tools

to help you structure your growth experiments and brainstorms

3 Live Q&A sessions

where we answer all your questions and give feedback to your growth experiments and fuel you with new ideas.

Access to GrowForce Slack Community

where you can share questions & tactic and have direct line to our growth experts.

Lifetime access to the course



Who is ready for lift-off?
Are you ready to upskill yourself and grow your business?
You'll learn how to create your own data-driven growth marketing experiments and get results in a few weeks. No-external help needed.
And the most valuable asset: you'll get a growth marketig midset and you are ready to run your own experiments!
PROBLEM 1:

"Marketing is changing too fast

, and as soon as I learn something that information becomes obsolete."

PROBLEM 2:

"I don't have time to wait

, for expensive, big campaigns that take more than 3 months to set-up"

PROBLEM 3:

"I don't want to waste my money

, on gut-driven decisions, blind trial and error is not an option for me."

PROBLEM 4:

"I can't track my marketing efforts

, we're doing something, but I don't know what is working or not"

PROBLEM 5:

"There is no way for me to outspend my competitors

. I need to outsmart them"
Course Curriculum
This is the Growth Marketing program that I always wished existed. This is the collective knowledge of 10 Growth Marketing Consultants at GrowForce
Lesson 1
Growth Marketing 101
Learn what growth marketing is and how to organize it within the company using the pirate funnel and its stages.
Lesson 2
Growth Marketing Prerequisites
Learn what needs to be in place before you can start with growth marketing. The better these basics are outlined, the better you know will be able to brainstorm experiments.
Lesson 3
Quick Wins to Get Started
Learn growth tactics and tools you can implement right away to improve important metrics on your website.
Lesson 4
Roadmapping your Growth
Get to work with our 2 canvasses to activate and organize the brainstorming process. We'll finish this lesson with canvasses filth with growth experiments.
Lesson 5
Experiment Design
Learn the methods we use to perfect outline the experiments that have the highest impact, ease of implementation and the most potential for growth.
Lesson 6
The Growth Marketing Process
Learn to implement growth in your company. Once you learn this process, the exponential growth possibilities are endless.
Lesson 7
Tracking your Growth
Learn how to track the results of your growth experiments. Only what gets measured, gets improved. Data is king!
Lesson 8
Idea Generation: Spy & Steal from your Competitors
Good artist copy. Great artists steal. Learn how your competitor is driving traffic to its website and generating leads.
Lesson 9
Linkedin: Optimization & Automation
LinkedIn is one of the most powerful platforms for your B2B outreach. Learn how to use LinkedIn to find your target audience, drive traffic to your website and automate the entire process.
Lesson 10
Traffic: Cold Email in GDPR times
Learn how to optimize your cold outreach for maximum conversion. We'll teach you how to structure your emails, how to build dripping campaigns and which data you can use.
Lesson 11
Traffic: Social Advertising
Learn how to get paid traffic from social channels to your website and/or landing page. We share our best practices so you can launch your first campaign in a lean, profitable and scalable way.
Lesson 12
Traffic: SEO
Learn how to optimize your website and its content for search engines. Learn how to get the first place in the search engine results.
Lesson 13
Traffic: SEA
Search advertising is a powerful way to get your messaging in front of a big audience of interested customers. Learn more about advertising on search engines and drive relevant traffic to your website.
Lesson 14
Conversion: Lead Magnets
Lead Magnet can completely make or break your lead generation success. Learn how to create an awesome lead magnet and maximize the number of targeted leads.
Lesson 15
Conversion: Landing Pages
Learn how to build high quality landing pages that actually convert. We've made a landing page checklist to make sure all your pages are optimized for generating leads.
Lesson 16
Marketing Automation
We'll teach how to set up your first automation flow and build amazing customer journeys. This is the first step to build your sales and lead generation machine.
Lesson 17
API's & Data Scraping
Learn the technical skills to become the best growth marketeer out there. These tools will give an unfair advantage over your competitors.
Lesson 18
Writing Copy that Converts
Learn how to write effective copy for your ads, articles and your website. Copywriting is one of the most essential elements of effective online marketing.
Lesson 19
Sales & Marketing Process Re-Engineering
Learn how to organize qualified leads between marketing and sales. Learn how to create the perfect blueprint and choose the CRM your company needs.
Lesson 20
How to Implement Growth within your Company
Learn how to onboard your entire team, how to organize growth meetings and how to keep everybody accountable for their growth experiment responsibilities.
Bonus
Quarerlty Growth Marketing Summit
Learn Molly's proven strategies for taking your newfound skills to the market as a in-house media buyer, a consultant, or an agency.
"With growth marketing, you often think of tools, but growth marketing is more significant than that. Growth marketing really helps with generating marketing qualified leads to push to sales. Every startup and scale-up, who takes itself seriously, should attend this course."
Dries Wijnen - CEO at Lawren.io
You'll never walk alone
You'll be part of an ever-growing Slack community where you'll meet hundreds of GrowForce Alumni. It's a supportive society that will help you to stay connected to growth marketing and continuously expand your knowledge.
Also, you'll join our LinkedIn engagement pod to get the maximum reach from your LinkedIn posts.
Ask your questions and get feedback from 10 GrowForce experts or the community members anytime.
Make new connections. Surround yourself with people that share the same journey as you.
Get updates about the course and the latest growth marketing strategies.
Sky-rocket your LinkedIn post engagement for virality.
Who should take this course?
This course is excellent for entrepreneurs, freelancers, digital consultants, account managers and sales, recent graduates and employees looking to learn more about growth marketing.

It is perfect for anyone looking to update their digital skills, gain a fresh perspective or develop a successful automated sales strategy for their business
Entrepreneurs, founders and freelancers
Perfect for one-man armies. The course will teach you how to think and approach your business problems from new perspectives. You'll be able to create and execute campaigns by yourself without any external help.
Digital and online marketeers
You'll be the most wanted person in your company. Not many colleagues in your industry will have your skillset and mentality; this will help you to get ahead. You'll be a confident marketer with smart solutions.
Sales Development Representatives (SDRs) and Business Development Representatives (BDRs)
Sales will be the puppet that you control with automation and growth marketing tools. The course will teach you effortless ways to find and close your prospect. You'll have the tools and time to take down big companies.
What do Allumni think of our academy?

Upskill yourself now
The Ultimate Growth Marketing Course
€998,25
Lifetime access to the full course material. Currently, +24 hours of content and will be updated regularly.
Access to 3 live Q&A sessions where you can ask your questions and find solutions.
Be part of our private Slack community (200+ members) for continuous know-how transfer
Access to our full growth marketing tool list (Frequently Updated)
Access to the quarterly GrowForce Online Summit
Access to a private social engagement Pod (LinkedIn Boosting)
Discounted first hour of one-on-one advice/implementation by GrowForce
Official growth marketing certificate
Only for Flemish companies: 30% discount through KMO Portefeuille